Designer shopping in Karachi offers so many different options at all sorts of price points. We started this series on designer shopping in Karachi with a wander down E-street. This time we'll be looking at Bukhari Commercial, which has the greatest concentration of designer shops in Karachi after E-street, as well as taking you through Zamzama and talking about the designers in Defence that work from home-based or standalone studios. Bukhari Commercial holds the likes of Rizwan Beyg, Zara Shahjahan and Ayesha Somaya while you can also find the likes of Zainab Fawad, Momina Teli and Layla Chatoor close by. Defence remains one of Karachi's poshest localities but the shopping is in confusing lanes so you'll need Google Maps at the ready.
Designer shopping in Zamzama, Karachi
On your way to Defence, head down Zamzama, once THE shopping destination in Karachi but now mainly known for shoe shops and the odd upcoming designer. Deepak Perwani is one of the few who's stayed on Zamzama – you can't miss his store on the main road. One of the first designer retail spaces in Karachi, it's still a great place to pick up both menswear and women's pret. It's also worth stopping at Mina Hasan, which is one of the last shops on the left side of the main road. Do also make time for two iconic fabric shops – Al-Raheem brothers and Hilal Silk. If you have time to spare, wander through the lanes on the either side of the thoroughfare – you'll find shops like Generation, Shireen Ladkawala and Agha Noor as well as host of small shops where you might find a hidden gem. If you're looking for kidswear, do check out TLM boutique. However if you're pressed for time, head straight on to Bukhari Commercial.
Deepak Perwani
Deepak Perwani was one of the first top designers to venture into retail – his Zamzama store on the main road has been a landmark for decades. The store now stocks mainly menswear, with women's pret and luxury pret up to around 1 lac. Deepak is one of Pakistan's most senior designers and has a wide range of outfits ranging from pret to bridals.  If you want to check out Deepak's formals and wedding wear, head to his Clifton studio behind Ocean Mall. The Zamzama store is however worth a look for the menswear – Deepak is one of the best designers of menswear in Pakistan and his fit is excellent.
Mina Hasan
Mina Hasan stocks luxury pret and formals ranging from silk tunics all the way up to heavily embroidered pieces. Her style is trendy and sophisticated. Expect plenty of variety at the store – she has a great eye for colour and her embroidery and silhouettes are excellent. Her formal embroidered kaftans and formal embroidered wedding-wear are particularly lovely.
Banarsi Al-Raheem Brothers
Ok this is kind of off-topic but I'm aware that many people using these guides are visitors from out of town or abroad and banarsi fabric is something they look for in Karachi. Al-Raheem Brothers are one of the best stores in town for Banarsi/brocade fabric. They have fabulous woven cloth with gold, silver or bronze thread picking out patterns in the cloth – perfect for lenghas or kurtas or jackets. They have jaal designs and booti designs in a range of fabulous colours. They also do jamavar/banarsi saris but not three-piece suits as much. Their fabrics can be used as the base for wedding outfits or stitched with style just to let the fabric speak for itself. Al-Raheem Brothers can be a little difficult to find, as the lanes of Zamzama aren't very clearly marked. If you're coming down Zamzama from clifton, it's in the Askari Bank lane on your left.
Hilal Silk
Hilal Silk is my other must-visit fabric store in Zamzama. This is where you'll find three-piece banarsi and jamawar suits. They do woven brocades in silk, chiffon, cotton and khaddar. Downstairs you will find fabric by the yard and this is where you can pick the most incredible weaves for lenghas, ghararas or jackets. Heavy silk brocades in silk with gold, silver or antique gold in a dizzying selection of colours and designs. Upstairs you will find saris and three-piece suits in a variety of fabrics and styles. The quality is excellent and these are timeless pieces that you will wear for years.
Designer Shopping in Bukhari Commercial, Karachi
If you're looking for high-end design,  Rizwan Beyg, Zainab Chottani and Zara Shahjahan are all in Bukhari Commercial. You can also Tena Durrani, Ayesha Somaya and Nadia Farooqui within yards of each other. Amna Chaudry is a couple of streets away as is multi-brand store Runway Eleven for a selection of emerging designers including Komal Lakhani, Erum Jamal and others. Nearby in Defence you will find designers limited walk-in times such as  Layla Chatoor, Momina Teli, Zuri by Zainab and Body Focus. I will be doing a separate post on those designers who remain by appointment only – including Shehla Chatoor, Dr Haroon, Zohra Alam and others.
Zara Shahjahan
Zara's Bukhari store is on the main Shujaat, next door to Xanders. Over the years, Zara has developed a very unique style – bohemian, nostalgic and feminine. She gives a contemporary spin to old school silhouettes and her smart casuals and luxury pret with loose shalwars and cool ghararas are a breath of fresh air. From original casuals to striking formals, there's always something interesting and different in store.
Rizwan Beyg
Rizwan Beyg is one of Pakistan's most iconic designers and for many years operated out of a small studio. Recently, however, he opened a flagship store in Bukhari Commercial – taking over Sania Maskatiya's old space when she moved to the E-street vicinity. You'll find pret downstairs in the store – everything from ari-worked semi-formals right up to exquisite hand-embroidered formals. Rizwan's luxury pret is very craft-based, with beautiful embroidery and classic silhouettes. If you can find his lowers in stock, they are a must-have. No one does quite the same original takes on pants, ghararas, wide pants and shalwars. You can find variations on his runway pieces and more avant-garde styles among his formals – along with beautifully traditional formals too. His bridal and wedding wear is upstairs and that's where you'll find his opulent embroidered lenghas, saris and more.
Tena Durrani
Tena Durrani is one of the cluster of designers around Rizwan Beyg's store. Tena's style is contemporary eastern, with a focus on luxury pret, formals and bridals. She doesn't stock any ready to wear outfits but this is a solid spot to look at made-to-measure formals and bridalwear. Her ensembles tend to be elaborate and striking with a range of silhouettes on offer.
Nadia Farooqui
Nadia Farooqui's store is upstairs in a building opposite Rizwan Beyg. She is a mid-tier designer and her style is very pretty – you will always find some lovely pieces in store. She stocks luxury pret and formals at her Bukhari store. She uses a mixture of machine work and handwork to great effect with kora, dabka and kamdani embellishing her formal and wedding wear.
Ayesha Somaya
Ayesha Somaya is just down the street and is a must-visit for affordable versions of the hottest fashion trends. The store focuses on pret and luxury pret, with a price range from 6,000 to 35,000. The ground floor is devoted to luxury pret, with kurtas, tunics, kaftans, peshawazes and angharkas in a variety of fabrics and colours. Ayesha Somaya's outfits are beautifully finished with pretty details and they have a very luxe feel. Ayesha Somaya is also one of the few to offer a variety of ready-to-wear lowers and dupattas that are elegantly trimmed with lace and pleating. The basement is devoted to pret, with smart casuals in lawn, cotton, heavy cotton, denim or linen depending on the season. Their basics collection features pin-tucks, eyelets, lace and embroidery with attractive hues and silhouettes. It's a welcome break from the prints of the high street and the luxurious detailing means these outfits are easy to dress up.
Zainab Chottani
Zainab Chottani is a very versatile designer and her flagship store in Bukhari Commercial offers smart casuals, luxury pret, formals and bridals. The bridal studio is in the basement and is by appointment only. Zainab's bridals have a contemporary feel, whether they are pastels with silver embroidery and swarovski crystals or more traditional embroidery on brighter hues. The ground floor houses her casual line, Tarha, along with formals and luxury pret. Zainab has a great eye for colour and embellishment and her luxury pret and formals are detailed and striking.
Amna Chaudry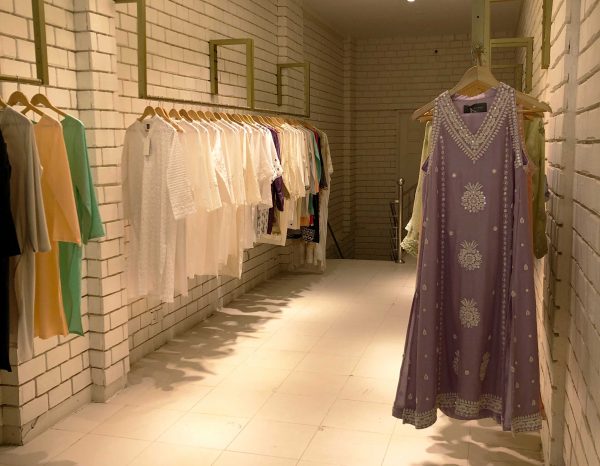 Amna Chaudry has a tiny store in a little lane in Bukhari Commercial but it's definitely worth a visit. Her aesthetic has a similar feel to Misha Lakhani's though at lower price points. I'm not implying that her outfits are in any way replicas, but Amna does seem to be inspired by Misha to some extent – particularly in terms of cut and silhouette. Amna's collections are beautifully understated and bohemian in feel with a sophisticated feel. There's always something interesting in store and it's worth tracking down her store.
Runway Eleven
Runway Eleven is a multi-brand store focusing on luxury pret by emerging designers and some of the smaller design houses. The mix of designers tends to vary but at present the stock includes designers like Komal Lakhani, ErumJamal, Rozina Munib and . Runway Eleven is high end without being exorbitant and is a great place to pick up luxury pret and wedding wear at attractive price points. They also stock designer jewellery and clutches and the store is full of hidden gems.
Maheen Khan
Maheen Khan has a little store in Bukhari Commercial that belies her stature as a designer. She's dressed everyone from Benazir to Princess Catherine and her understated designs are flattering and fun to wear . Her clothes have very little hanger appeal and you may be tempted to walk straight back out of the store but once you try her outfits you realise how clever they are. The fit and finishing is exquisite and these are outfits you can dress up or dress down. Her half-saris are extremely elegant and her designs challenge you to re-examine the way you dress.
Zuri by Zainab
Zainab Fawad excels at elegant eastern wear, ranging from casuals to formals and wedding wear. She always has exclusive casuals in stock, beautifully detailed kurtas and tunics in solid colours accented with lace, pin tucks and other detailing. you won't find dozens of others wearing her pieces and the styles will take you from work to lunch to birthday parties. She's one of the few to stock RTW pure silk kurtas, accented with a little embroidery for that formal touch. Her latest formal collection offered festive outfits that were very elaborate for the price points. She works with traditional crafts like tukri, ari work, gota and more and is equally good as light and dark colours. Zainab Fawad's studio is open for walk-ins on Tuesday and Thursday.
Momina Teli
Momina Teli's studio is open for walk-ins every day from 4-6 pm, except Friday. Momina designs smart casuals, luxury pret, formals and wedding wear. Her luxury pret is perfect for dinners and GTs and her formals are a relatively affordable way to make an impression. Look out for her interesting embroidered trousers and pretty luxury pret, with tiny details that stand out.
Layla Chatoor
Layla Chatoor is one of Karachi's most senior designers – she recently celebrated 25 years in the business. At a time when too many designers look like each other, Layla's aesthetic stands out for its originality. She was one of the first to give traditional craft a contemporary spin and her outfits continue to have a sophisticated, modern edge. I particularly like the way she combines techniques like digital printing, beading and crystals with threadwork and kora dabka. Her silhouettes are flattering and elegant and she offers everything from luxury pret to bridals. Bridals are by appointment only but luxury pret is available for walk-ins on Thursday and Saturday.
Elsewhere in Defence you'll find those that still operate on an appointments-only basis, along with smaller shops and boutiques. Next up in our designer shopping guide you'll find Old Clifton, Phase 2 and KDA , a melange of locations that include Elan, HSY, Nida Azwer and Faiza Samee. If you're liking these guides, do comment and share and thanks for following!