Upcoming young Pakistani designer Ansab Jahangir's latest bridal shoot was featured in Paperazzi this month. We caught up with her to ask her about her design philosophy and the new studio she's launching on 16th May in Karachi.
Sponsored Post
1. How long have you been designing?I have been designing for the last 7 years.
2. What's your design philosophy?
My design philosophy is to incorporate the skills of traditional artisans with modern cuts to give my clients a fresher yet ethic feel when wearing one of my pieces.
3. Who do you design for?
Our design strategy caters to chic yet contemporary woman of today, and most of the pieces are timeless therefore our collection fits everyone's wardrobe
4. What's your personal style?
My personal style is very minimalistic.
5. Trends for the upcoming summer bridal season? What would you wear?
Net jackets paired with sheer organza dupattas along with the ever classic straight shirts with regal Farsi ghararas. Opulent pearls/Swarovski crystals and Zardozi embellishments will be widely seen along with a continuance of the lehenga choli trend.
6. You're opening a studio – when? where?
I'm studio launch is on the 16th of May at Khayaban-e-Amir Khusro Phase 6 DHA
7. What's your price range?
The pret wear is RS 4,000-7,000, luxury pret is from RS 8,000-14,000 and the formats are RS 25,000-150,000. Our bridal wear starts from RS 200,000.
8. What sort of outfits will you stock?
We will be stocking a wide range of smart casuals, pret, luxury pret, formals and showcasing a bridal fashion presentation at the launch.
9. How long do you need to make one of these outfits in the shoot?
It varies, luxury pret takes about 2 weeks, formals would be 1 month and bridals take 3 months.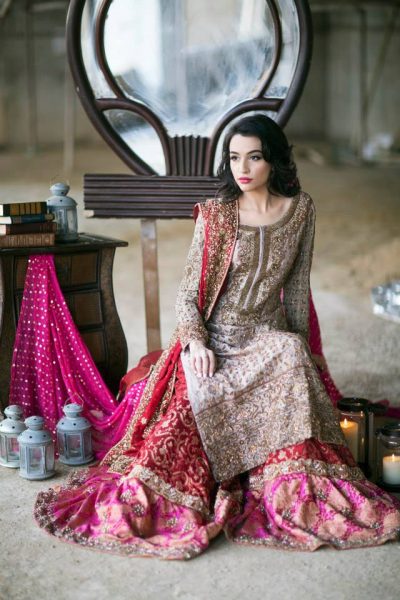 10. Your bridal shoot was gorgeous – what was the concept behind the shoot?
The concept behind this shoot was that any girl can stand out because of what she chooses to wear. My bridal collection is called 'Reminiscing Paradise' in which the rugged landscape does not limit the girl or restrict her thoughts. No matter where she is, she will outshine the rest.