If you've been drooling over the gorgeous Eid trolley food in Karachista's Eid trolley inspiration feature for Dawn.com, we have a treat for you. Amna Tauqeer of YUM has shared some of her delicious secret recipes with us.  Eid is just round the corner but there's still time to try Amna's stylish Eid trolley recipes.
Having tasted them all, I can testify that they are all super yummy. The sheer khurma with salted caramel is a modern classic, the mango fool deliciously light and  the behari kebab rice paper rolls a brilliant example of fusion cuisine.
Sheer Khurma With salted caramel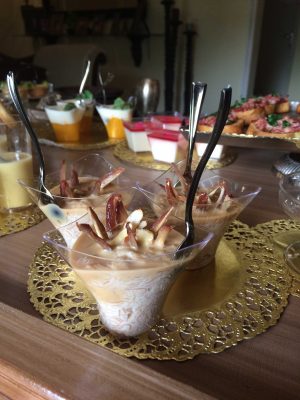 Full Fat Milk – 6 cups
Vermicilli 1/2 cup
Sugar – 4 tbsps
Butter (Unsalted ) – 4 tbsps
Cardamom powder – a pinch
Dried dates : 06 ( Soak in hot water for 15 minutes . De-seed and cut into long, thin strips )
Method: Heat butter in a pan on low heat and add vermicelli . Fry till its gets light brown ; add cardamom powder, milk and sugar. Cooking, on low heat for 2-4 minutes.
Salted caramel sauce:
1 cup granulated sugar
6 Tablespoons salted butter (cubed)
1/2 cup heavy cream
1 teaspoon salt
Directions: Heat granulated sugar in a medium saucepan over medium heat, stirring constantly with a wooden spoon. Once sugar is completely melted and has turned amber, add the butter
. Be careful in this step because the caramel will bubble rapidly. Very slowly, drizzle in 1/2 cup of heavy cream while stirring. Allow the mixture to boil for 1 minute. Remove from heat and stir in 1 teaspoon of salt.
Dish out sheer khorma in platters or shot glasses ; drizzle with salted caramel and garnish with dried dates.
Amna's Tips: Use full fat milk for a rich taste and the perfect consistency. You can also add almonds , pistachio etc . Be very careful while boiling sugar for the caramel sauce and use a big pot because once you add butter and cream , it starts bubbling and may spill over. The caramel sauce can be store for up to 2 weeks in the refrigerator. Take it out of the refrigerator an hour before you need it so that it warms up and reaches pouring consistency.
Mango, Saffron and Cardamom Fool
Mangoes ( peeked and cubed ) 2 cups
Saffron : 1/4 tsp
Cardamom : 4 pods (crushed )
Whipping cream 250 ml (chilled)
Icing sugar : 3 tbsps
Milk : 3 tbsps
Lemon zest : 1/4 tsp
Met
hod: Heat milk ; add cardamom and saffron. Cover and let it rest for 10 minutes. Strain. Discard cardamom pods . Purée mangoes in a blender till they are smooth (add 2 tbsp Sugar if the mangoes aren't that sweet). Whip cream and icing sugar till stuff peaks form. Fold in the lemon zest and the milk infused with cardamom and saffron To serve , pour mango purée in a shot glass/ramekin or a dish. Top with whipped cream. Garnish with mango cubes.
Amna's Tips: You can make the whipped cream mixture a day before and store it in the refrigerator. The mangoes must be puréed the same day so they retain freshness and that bright yellow colour. Once puréed, do not stir the mangoes too much so the purée stays light and airy.
Behari Rice Paper Rolls
1 kg chicken breast cut into 2 inch cubes
2 large onions sliced
2 tbsps vegetable/ canola/ sunflower cooking oil
1 cup yoghurt
2 tbsps garlic paste
1 tbsp ginger paste
2 tsp cumin powder
2 tsps coriander powder
1 tsp freshly ground pepper
1/2 tsp red chilli powder
1/2 tsp star anise powder
1/2 tsp mace powder
2 tbsps raw papaya paste
Salt to taste
Rice paper rounds : 12
Mint leaves : 48
Deep fry the onions till golden. Purée in a blender. Add onion paste , all the spices , yogurt , papaya paste and marinate chicken for 30 minutes. Line a roasting tin with foil. Place the chicken on the foil and bake at 160 degrees Centigrade for 30 minutes. Soak rice paper in water for 50 Seconds. Place it on a wet tea towel. Arrange 4 mint leaves along the center; followed by 3 behari kababs. Fold ends in and roll up firmly to enclose filling. Serve with a yogurt-based dip
Amna's Tips: Once assembled , keep the rolls covered with a moist tea towel ; else the rice paper may get dry and start tearing. You can add some julienned spring onion to the rolls. The behari kabab can be made ahead and frozen . Assemble the rolls just before serving. To keep mint leaves fresh , wrap it in kitchen paper roll and store in the fridge
Check out the original Eid trolley inspiration piece here.