Fitness has never been more fashionable and Karachi's coolest gyms have upped the ante, moving from makeshift accomodation to state-of-the-art facilities. The trendy Studio X just moved to a dedicated building, Core moved to fantastic new premises in Ocean Mall last year while AQ Yoga also recently opened an immaculate new gym. Karachi's trendiest gyms combine great facilities with charismatic trainers but what are the cities top gyms going to cost you? We decided to find out….
1. Studio X
Studio X is Karachi's coolest fitness center, frequented by many of the town's movers and shakers. Specializing in group fitness, personal training, boot camps and detox programs, their  exceptional team is headed by charistmatic Jeanette Farooq and Salina Taqi. Studio X's classes include some scarily fit women, but there are people at every stage of fitness so you never feel too intimidated. Studio X currently offers yoga, pilates, spinning, body pump, tabata and HIIT classes. Each class has a different price structure and pace, designed for different fitness temperaments. The studio also has a small gym facility that you can join if you don't want to go for a class-based fitness program.
Price Structure:
Joining Fee: Rs. 10,000 (30% discount available)
Monthly fee: Rs. 6,000 (for gym only)
Starting price: Rs. 7,000 (for classes)
*price varies according to number of days in a week
2. AQ Power Yoga
The brainchild of the magnetic Aqeel Amin, AQ Power Yoga is one of the most prominent yoga studios in the city and they've recently expanded to provide state of the art gym facilities. Their popular 30 day fix is combination of strength training, HIIT and power. Their new gym, "AQ Fitness" on Zamzama, has dedicated spaces for fitness classes and a full gym. Classes range from the 30 day fix to power yoga to muay thai. AQ Power Yoga also offer evening classes in KDA.
Price Structure:
Joining fee: Rs. 5,000 (for gym)
Monthly fee: Rs. 7,000 (for gym)
AQ Power Yoga charges:
KDA Classes:
Joining fee: Rs. 1,500
Monthly: Rs. 5,500 (3 days a week)
Zamzama Classes:
Joining fee: Rs. 2,000
Monthly: Rs. 5,000 (2 days a week)
3. Core Fitness
Headed by Sheema Sultan and designed for today's fitness needs, Core Fitness is an innovative gym facility with top-notch equipment. Sheema started off with group classes for women in KDA that quickly attained cult status among Karachi's cognoscenti. She moved on to open one of the best gyms in Karachi with everything from free weights and resistance training to a boxing ring. Located in the Ocean Mall, this facility offers many unconventional fitness options such as their recently introduced Barre class, spinning circuit, TRX and Zumba HIIT. This one's for you if you're interested in trying new forms of exercise and a modern gym facility.
Price Structure:
Registration fee: Rs. 5,000 (for gym)
Monthly Fee: Rs. 13,000 (for gym)
Spinning class: Rs. 7,000 plus tax
4. Lifestyle Gym
One of the oldest and most renowned gym facilities in the city, Lifestyle gym provides a well-equipped training atmosphere to those looking for a modern fitness experience. With two branches located in different areas of Defence, each facility has qualified trainers who help you achieve your fitness goals by guiding you in terms of both technique and diet. According to a staff member, the first focus is to build your stamina and slowly progress to target training for a steady body transformation.
Price Structure:
Joining Fee: Rs. 12,000
Monthly Fee: Rs. 5000
5. Kore Fitness & MUV Base
Located at Khayaban-e-Shahbaz, this gym is all about pumping up the energy with a mix of core-activating classes, vinyasa yoga, zumba, martial arts and boot camp sessions. Affiliated with Kore, is another fitness facility called MUV Base which is located in the same building and offers more unconventional forms of exercise programs such as Muay Thai for kids, Zumba, Kick-boxing etc.
Price structure:
Joining fee: Rs. 7,000
Monthly fee: Rs. 6,000
6. Club M
A state of the art and modern gym facility for fitness junkies in the city, Club M is located at Bukhari Commercial in Defence. The facility is currently offering a separate gym facility and two programs namely, 'Tranformix" and "Fit". Tranformix is a fitness class that takes place three times in a week based on techniques like HIIT, boot camp exercises and zumba. Fit is an all ladies class that also incorporates a mix of cardio and high-intensity exercises great for weight loss and toning.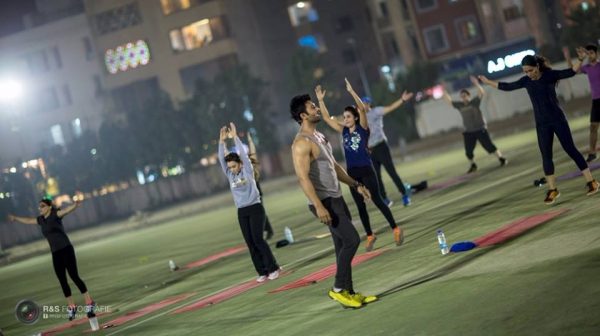 Price Structure:
For Gym facility:
Joining fee: Rs. 15,000
Monthly fee: Rs. 9,000
For classes:
Transformix: Rs. 6,000
Fit: Rs. 6,000
7. The Wellness Company
A well-equipped gym facility located at Zamzama, the Wellness Company provides both, personal and group training programs. One of their on-going training boot camp is Sweat-55 – a high-intensity and fat-blasting 5-week program that focuses on core strength and building strength overall, personally designed by celebrity trainer Mantaha Maqsood. It's a good choice if you're looking for something to kick-start your fitness regime as you'll find trainers in this program who will guide you on your technique as well as your diet.
Price Structure:
Sweat-55: Rs. 17,500
Starting price for gym: Rs. 9,000 (for 3 classes a week)
*price goes up as you increase number of days
Club M and The Wellness Company seem to be a tad more expensive while the rest of these top gyms cost pretty much the same. If these are beyond your budget, there are lots of other gyms around town catering to almost every price-point. Remember fit is the new thin – can you afford to be left behind?