Summer is in full swing and we're back with our annual Ultimate Guide to Summer Camps to save your life (as much as we love our kids, they drive us nuts sometimes – especially, working parents). Summer camps are your best bet when it comes to keeping your child engaged in an environment where they can learn and thrive that isn't as demanding or challenging as school. We don't have the US style of camps where our kids can learn camping and watersports but Karachi is host to a plethora of fun programmes. Go through this guide to decide the best one(s) for your child – hurry up though, places fill up fast!
Jump Chinese
Learn to read, write and speak Chinese like never before with this intensive Mandarin summer program.
Dates: 10th – 27th June 2019 (Session 1) & 2nd – 26th July 2019 (Session 2)
Days: Monday – Thursday
Timings: 2 PM – 3 PM
Ages: 5 – 12 year olds
The Retreat's Adventure Packed Summer Camp
6th Year in a Row! Kids Summer Camp. This May & June we are commencing Swimming Classes, Snorkeling Classes, Kick Boxing with Basic Commando Training! Get your Kids get Fit, Become Stronger & Get Fully Entertained in these Vacations!
Call us for Details 03202828280
Days:
Snorkelling: Monday, Wednesday, Friday
Swimming: Monday – Friday
Kick boxing & basic commando training: Tuesday, Thursday, Saturday
Art Joy
"ART JOY" is on in Ramzan and brings you a fun-filled summer camp – guaranteed to engage your child and let their creative side shine.
Call 0300 8260795 for more details.
Dates: 17th – 28th June
Days: 3 days a week, 2 weeks
Timings: 11 AM – 1 PM
Ages: 4 – 12 year olds
Photography course for Children
Introduction to Photography
Camera Operation and Handling
ISO, Aperture, Shutter Speed
Understanding Depth of Field
Understanding Composition
Lighting Theory
Videography with DSLR
PRACTICE AND SHOOT!
Photographic Field Trips
Dates: from 13th June 2019
Time: 10:30 AM – 1:30 PM
Ages: 8 – 14 year olds
Venue: Alliance Francais de Karachi
Summer Art Camp: Exploring Famous Artists
In this workshop, students will discover the world of famous artists and their artworks through short documentaries and videos. They will learn about techniques used by masters and create their own original artwork using different materials. By the end of the workshop, students will be able to uncover, explore and develop their own unique style.
Course Outline:
Students will be learning and creating artworks using the techniques of following artists over the period of 15 sessions:
Session 1: Henri Matisse
Session 2: Farida Kahlo
Session 3: Andy Warhol
Session 4: Andy Warhol
Session 5: Roy Lichenstein
Session 6: Jackson Pollock
Session 7: Joan Miro
Session 8: Pablo Picasso
Session 9: Pablo Picasso
Session 10: Georgio O' Keefe
Session 11: Claude Monet
Session 12: Claude Monet
Session 13: Piet Mondrian
Session 14: Wassily Kandinsky
Session 15: Paul Klee
Days: Every Wednesday and Friday
Starts: Wednesday, 12th June 2019
Ends: Wednesday, 31st July 2019.
Total Sessions: 15
Timings: 03:30 PM – 05:00 PM
Venue: Faraar Gallery, T2F
Age Group: 5+
Registration Fee: Rs. 8000/- (for the entire course)
Fee per session: Rs. 600/-
Sibling Discount: 10%
Full course payment: 10%
Early Bird Discount: 10%
Creative Writing Camp by Nida Khan
This is a great one for budding writers or for those who struggle with creative writing. The very experienced Nida Khan's creative writing workshop will give wings to the writer within.
Dates: 1-30th June
Days: Monday and Wednesday for ages 7-11
Tuesday and Thursday for age 12 and above
Timings: 11 AM – 2 PM
Contact Nida Khan on 03018235000
Puddle Fish's Ramzan Fun Camp
Puddle Fish brings to you their Ramzan fun camp that lets your children experiment with all sorts of activities like Islamic stories, pottery paining, DIY crafts, drama & theatre, cooking, pottery painting and much more.
Dates: 20th – 30th May 2019
Timings: 3 PM – 5 PM
Ages: 4 – 10 year olds
Contact: 03206648628 for more details
Kinder Academy
There's no place like Camp Kinder!
This summer, Kinder Academy is offering Camp Kinder starting on the 27th of May till the 21st of June 2019. Camp Kinder will run three days a week from 12pm to 3pm and is offering various activities catering from ages 3 to 10 years.
We love nature and the great outdoors. Our program offers a state of the art facility with culinary cooking classes, music, sports, STEAM education, a splash pool, extensive arts and crafts, horse riding, drama and adventure programs plus more!
Limited slots are available. REGISTER NOW: http://bit.do/campkinder2019
*We are offering a 20% SIBLING DISCOUNT with no hidden fees!
To register and more information, kindly call us at 0315 452 5252 or email us at [email protected]
Dates: 27th May – 21st June 2019
Timings: 3 days a week – 12 PM to 3 PM
Age: 3 – 10 year olds
STEM Summer Camp
Join us for a STEM Summer camp! Our unique weeklong camp introduces students to the exciting worlds of science, medicine, technology, engineering and mathematics in a safe and comfortable location.
Students will take the Little Medical School part 1 course where they will go through the following classes:
Session 1: What's in the Doctor's Bag? Students learn about instruments doctors use!
– Session 2: All About the Heart! Students learn about how the heart.
– Session 3: Digestion Fun! Through an interactive exercise, students learn what happens when their bodies digest food.
– Session 4: All About the Lungs! Students get up and moving to learn how air enters and exits the body.
– Session 5:Is There a Surgeon in the House? A face mask and gloves will make students feel like real surgeons as they learn to
suture and tie knots!
– Session 6: Medical Fun and Graduation! Students will graduate and receive a diploma.
Students will also take TWO ROBOTECH courses.
Robotics – is a combination of mechanical, electronics and computer software engineering. It includes the development of robot or smart machines that perform tasks
Genius Math – children learn to do difficult calculation within seconds and become gadget free. Aloha based mind math course which enhances the listening, observing and focusing skills
Note: Friday timings will be 10AM-12PM
Dates: 27th May – 1st June 2019
Timings: 11 AM – 1 PM (Friday timings will be 10AM-12PM)
Venue: Alliance Francais Karachi
Junior Professors
Grow, explore and discover with Ira's Club. Get your little Einsteins busy with science experiments, carpentry, gardening, interior design, acting and much more with this summer camp.
Dates:
June Camp: 12th – 28th June 2019
July Camp: 1st – 26th July 2019
Timing: 4 PM – 7 PM
Ages: 5 – 10 year olds
Kazim Trust's Summer Camp
Our unique Inclusive Summer Camp focus on the Personality Development of children from age 3 – 12 through different fun, recreation, creativity, adventure, learning and channelizing their energy into yoga and games. The Camp include:
1. Yoga & Meditation
2. Concept of Recycling through Drum Circle
3. Books Exploration
4. Math Fun
5. Art & Craft Creation
6. Movie Shows
7. Outdoor Trip & Adventure
8. Soft Skills (Communication, teaching Good & Bad Touch, Daily Living Skills)
9. Health & Hygiene (Oral, Mental & Physical Health through games)
10. Parental Counselling Session
And Much More…..
Fee: Rs. 10,000/- only
Limited seats available
Contact us at 03360805177
Register at: www.kazimadhdtrust.org/kid-camps/
Dates: 17th – 30th May 2019
Timings: 11 AM – 1 PM
Age: 3 – 12 year olds
Speak Up Karachi
Anushe will be conducting confidence building classes for three age groups 7-10,11-13,14-16.
Classes begin July 15th, do like the page for more updates: www.facebook.com/speakupkhi
Dates: from 15th July 2019 – onwards
For more details, contact Anushe on: 03332483131
Schole's Mommy & Me
Calling out to all mommies: spend a little extra time with your child doing something they love: swimming, zumba, yoga.
Dates: 10th June – 11th July 2019
Days: Monday – Thursday
Timings: Varied – please check poster
Ages: 3 – 12 year olds
Erum Arif's Academic Summer Camp
Classes held by Karachi Grammar School teacher: Erum Arif . Grades 1-6 . Math and English skills polished over the summer and a US trained stem specialist coming in for the last 2.5 weeks to work with the kids.
Dates: 10th June – 12th July 2019
Timings: Varied – please check poster
Ages: Grades 1 – 6
Little Gymnasts
Let your kids dive into the world of gymnastics with a little bit of yoga to calm their young minds.
Contact 03008246025 for further details.
Days: Monday, Wednesday & Friday
Timings: 5 PM – 6 PM
Ages: 3 – 15 year olds
IVS Summer School for Children
IVS CEP organises summer school in different age brackets for children between 6 to 15 years old.  The summer school provides a unique multi-disciplinary hands-on approach to enhance the artistic and creative abilities of our future generation.  It is also a wonderful opportunity for children to interact with IVS faculty. The summer school is a great creative arts, fine arts and cultural arts program, that promotes critical and creative thinking in children through artistic instruction with a focus on problem solving and self-expression.
Artrageous Summer 2019
1. Shape it Up
This course allows young children to explore clay in exciting and stimulating ways through simple themes and projects. The students will learn to create coil & slab-built pottery and sculpture as well as carving techniques. The moulding tools will be used to manipulate the material into different shapes by receiving step by step instructions from the artist.
2. The Final Act
This course is for all the age groups.  It includes, exercises for enhancing confidence, expression and voice projection.  It was created as a supportive and nurturing module for young actors to develop their craft in a close-knit environment. The program includes acting technique, movement, improvisation and provides a unique opportunity for students to fully immerse themselves in the acting studio.
3. All About Photography
This course is for kids who love to make memories, images and every click they take matter. They will be taught the fundamental aspects of photography and how to frame a technically correct picture. Alongside, they shall be taught the basics of light, shadow, exposure and composition and how to handle basic camera equipment and how to take a great photograph! They will also learn how to use their own camera to the best of its capabilities.
4. The Art of Storytelling (11 -15 years)
This course shall open a new horizon and sharpen the visual mind into words. Writing tips and fun filled activities will help our young writers explore their imagination in a new dimension. We shall be tackling the importance of sensory observation while writing and describing places and people. We'll also talk about the importance of reading. Students will write about what they observe in day to day circumstances opening up a Pandora's box of wonders in words.
5. Speak Out (11 – 15 years)
This course has been specially developed for children that have a mammoth fear of public speaking. Those that don't want to get up in front of a crowd because they are scared of being judged.  We shall help them polish their skills as public speakers and presenters. We at IVS believe it is all about building confidence, as students will learn tons of tips and techniques that will make the topic selection, speech writing and delivery process much smoother.
6. The Animation Board (11 – 15 years)
This is a fun workshop in which the students will learn the technicalities and coding of animation using computers. They will learn how to develop storyboards and turn ideas into short animated films. Alongside, they will learn to create their own 3D animated movie from start to finish, learning the fundamentals of moving objects in a 3D space, animating characters, and editing keyframes along a timeline.
7. Portrait in Series (11-15 years)
Creating from imagination is exciting, getting to know the real world is even better. This course teaches students to create a piece of art with realistic approach and grooms the artistic perception of participants. We shall nurture their intuitiveness with careful and deep observation, so they learn to understand the subject better and not to miss the delicate details that could enhance their work as an artist.
8. Reduce, Reuse, Recycle
This workshop aims to inculcate young minds to value the three R's (Reduce, Reuse, Recycle) and use the items that are thrown away everyday as trash and create something useful therefore giving it a new life and reducing their carbon footprint. Activities would include learning how to reuse paper through different techniques for eg: Papier-mâché and cut & fold. Mindful usage of cardboard rolls, plastic bottles and tin cans.
9. Retouche'
This course is ideal for helping participants to enhance their photographs using different features of Adobe Lightroom. Course will include editing of the photographs, improving photos and fixing mistakes from their shoot. Photo editing is a natural complement that adds to kids' expressive capabilities and can even inform how they shoot their pics.
10. Drawing Skills for All
Children love to draw if they are given a conducive environment. That is what this course provides. The sequence of lessons builds on an alphabet of shape to analyze and break down what they see. Development of perceptual and analytical skills increases critical thinking and problem solving. Easy and quick artistic success also builds self-esteem, and this confidence is transferable to other life areas.
11. Burlesque
A unique and new skill that will keep you away from the computer screen. The students will be learning the basic of cartooning & Caricature techniques. The course will include manipulation of shapes to give an exaggerated expression to develop various comic characters. Exaggeration, distance, size & angles are the upmost important feature in these drawings.
12. Fluid Watercolour
Students will learn about primary, secondary and intermediate colours, the basic techniques of water colour brush, how to choose a paper and build a colour palette, manipulating colour transparency, value and intensity and temperature for the radiant. The Watercolour Workshop is Designed with beginners in mind, with a total of 10 fun watercolour painting class projects that enhances their faculty of self-expression.
13. The Acrylic Canvas
Acrylic paint is a great medium for beginners because it is relatively inexpensive, water-soluble, quick-drying, versatile, and forgiving. If you are not happy with an area you've painted, you can let it dry and paint right over it in a matter of minutes. Learn the tricks of the trade, and you can soon embrace your inner Leonardo da Vinci, Vincent van Gogh, or Rembrandt using a forgiving medium these artists never knew when they created their great works.
14. Pastel Blend
Oil pastels, with their rich colours and expressive line quality, are a favourite medium to use with kids. And the key to getting the best results with any oil pastel lesson is layering.  The pastel colours are bright and pure, they are soft and easy-to-blend, and the colour goes on smoothly. The kids will start with few still life paintings initially and progress to more advanced tasks.
15. Soulful Strings
For learning music, one needs to start young. Then observational and analytical skills, focus, concentration and discipline can be nurtured effectively. With our meticulously tailored program, taught by professional instructors, we channel that boundless energy of your child into something useful, constructive and rewarding.
16. Voice of Artrageous
Sing and perform the songs you love! Back by popular demand, the artrageous summer camp provides an opportunity for students to learn popular chords while focusing on vocal production and stage presence with their singing. Students will feel like Pop Stars by the end of the course!
17. Contemporary Dance
What participants learn in our dance classes will go beyond movement and they can develop their own style.  The course builds up increased self confidence as there is a feeling of accomplishment after each class. In this introduction to modern dance, students explore various movement styles, spatial relationships and rhythmic patterns in a structured class environment.
18. Super Heroes & Aliens
Illustration is a field that is ripe with the demand for fantastical designs. Comic books, TV, video games, and genre books in general require not just an image supplementing the text – but a thought-out concept design of the fantastical characters, beasts, props and backgrounds. This course does just that – not only provide with the tools to draw, to visualise your concepts but to understand the context and theory of said concept designs.
Dates / Camp Sessions:
20th May – 31st May
17th June – 28th June
1st July – 12th July
15th July – 26th July
Timings: 10 AM – 1:30 PM
Days: Monday – Friday
Ages: 6 – 15 year olds
Course Fee: Rs. 9,000/= (minimum two weeks)
Ira's Reading & Writing Club
Let's mingle get imaginative with Ira's Reading and Writing Camp. Don't forget, there's a special phonics camp for 2.5 – 4.5 year olds too.
Dates:
June Camp: 12th – 28th June 2019
July Camp: 1st – 26th July 2019
Days: Tuesday, Thursday, Saturday
Timings: 11 AM – 1 PM
Ages: 5 – 9 year olds
Social Bunnies
Socialise with the bunnies at their summer camp. Enjoy gardening, cookery, baking, pottery, story times and interactive games.
Dates:
June Camp: 12th – 28th June 2019
July Camp: 1st – 26th July 2019
Timings: 11:30 AM – 1:30 PM OR 4 PM – 6:30 PM
Ages: 2.5 – 4.8 year olds
Ramadan Camp at Ira's Club
Learn about Ramadan through Quranic stories, learning of short duas and their meanings, Ramadan themed games, charity work, festive cooking and baking at Ira's Club.
Dates: 6th – 30th May 2019
Days: Monday – Friday
Timings: 3:30 PM – 5:30 PM
Ages: 2.5 – 9 year olds
Toddler Time Summer Camp
Let Ira's Club teach your tots colours, shapes, numbers and phonics.
For more information, contact: 03219239406.
Dates:
June Camp: 12th – 27th June 2019
July Camp: 1st – 26th July 2019
Days: Monday, Wednesday, Thursday
Timing: 4:30 PM – 5:30 PM
Ages: 10 – 36 months
Ramzan at Lal's
Help your kids learn about traditional arts from the Islamic world through fun and interactive learning and activities with Aunty Fatimah.
Dates: from 7th May 2019 – onwards
Days: Tuesday, Thursday
Timings: 4 PM – 5 PM
Ages: 6 – 12 year olds
The Chatterboxes
A public speaking and effective communication program for kids designed to help them improve their communication skills, increase their self-esteem and improve socialisation skills.
Dates: 13th – 22nd May 2019
Days: Monday, Tuesday, Wednesday
Timings: 11:30 AM – 12:30 PM
Ages: 3 – 4 year olds
Brain Training
For the future Einsteins of our generation, we've carefully, curated a program to challenge your child and push them to the best of their abilities, all while making it fun and interactive. Featuring story telling, crafts, maths.
Dates: 4th May – 4th July 2019
Ages: 5 – 10 year olds
Contact: 03126176633
Young Learners' Summer Fun
Keep your tots busy by heading over and joining the arty crafty summer fun at Young Learners.
To book a place for your child, please contact: 03002144365 / 03008245799
Dates: 27th May – 26th June 2019
Days: Monday – Friday
Timings: 10 AM – 12 PM
Ages: 2.5 – 6 year olds
Phonics in Pakistan
Celebrate a smarter summer by introducing your tots to the world of phonics. Covering the basics, your two to four year olds with learn a variety of things like letter sound recognition, developing left to right orientation, mastering shapes for similar written letters to avoid reversals for reading and spelling, patterns, counting, shapes.
Contact for further details: 03072703355 (Samar Owais) and 03072792849 (Mahrukh Ahmed)
Days: Monday – Friday
Timings: 3 PM – 4:30 PM
Ages: 2 – 4 year olds
Phonics in Pakistan
A smarter summer for your tots' elder siblings. In this programme, your kids will be taught reading, creative writing (something all kids struggle with), spellings, numeracy, comprehension.
Contact for further details: 03072703355 (Samar Owais) and 03072792849 (Mahrukh Ahmed)
Days: Monday – Friday
Timings: 3 PM – 5 PM
Ages: 4 – 12 year olds
The Rabbit Hole
Here's the skinny on summers at the Rabbit Hole !?
?Summer sun ready for our ⭐BIG WILD IMAGINATION⭐ Summer Theatrium ! Our summer jam is heating up the burrow! Take a ride through our newly curated hot off the shelf?? Storybooks and Theatre Tales, Imagination games✨ Wild outdoors for nature Woodland Creatures? and Tribal drum beats? signature Box Forts?? Construction, Artventures✏ ice caps at Rabbit Hole cafe? and some unexpected visitors ☻! Days of wonder, magic and imagination never cease to amaze us !?
Dates: 21st May – 3rd June 2019
Days: Monday – Friday
Timings: 12 PM – 2 PM
Ages: 3 – 8 year olds
Contact for registration: 03212228085
Registrations open, Limited Spots!
Steps Preschool Daycare
Steps Preschool is providing daycare during the month of Ramzan to help all the busy parents out there. Not only will your kids be under supervision, but it'll be a great opportunity for them to learn more about this holy month.
Dates: during Ramzan ONLY
Timings: Varied (mentioned in the poster)
Steps Preschool Summer Camp
Innovative learning through different activities, this summer camp will definitely keep your kids entertained. Not only does it focus on key elements like learning about fitness and the importance of cleanliness, this summer camp also gives them the opportunity to have fun through different mediums like clay, water, camping games, yoga.
Dates: 10th June – 4th July 2019
Timings: 10 AM – 1 PM
Ages: 2 – 10 year olds
The Mudpie Studio's Summer Camp
Let your little ones get messy with pottery, painting, DIY craft projects, baking, recycling, origami – all sorts of exciting stuff.
Dates: starting 20th May 2019 – onwards
Days: Monday, Tuesday, Thursday
Timings: 11 AM – 1 PM
Ages: 4 – 10 year olds
Writer's Studio
Teaching children writing skills but making the process enjoyable for them is tricky! This programme allows them to discover the joys of writing.
Contact: [email protected] / 03002770097
Dates: May, June, July
Ages: KG – 7th grade
Summer Art Squad by Maliha Deen
Is there a better way to celebrate the holidays other than whipping out art supplies and painting till your heart's content?
Dates: 21st May – 4th June 2019
Days: Monday – Thursday
Timings: 3:30 PM – 5 PM
Ages: 10 – onwards
Contact Maliha Deen to register your child: 03002637559
Phonics with Super Stars
Whether you're wanting to introduce phonics to your kids or you're after reinforcement, this is the perfect camp!
Contact: 03216735451 for further details
Ages: 2.8 – 4.5 year olds
Creative Writing Camp
Get your child's creative juices flowing with this camp.
Dates: 22nd May – 4th June 2019
Timings: 11:45 AM – 12:45 PM
Ages: 4.5 – 7 year olds
Snap n Stamp Camp
Let your kids enjoy the summer of play at Veritas Learning Circle – this is your place. Our SNAP 'n' STAMP™ camps are not "just" play camps. They are an opportunity to be creative and curious, a place where there are no right or wrong answers! Unlike the typical school year, there's no pressure to perform or ace a test. Experience our SNAP 'n' STAMP™ camps to try out new things, without judgement, in a super high energy and fun environment.
Dates: 11th – 27th June 2019 (Camp 1) & 1st – 18th July 2019 (Camp 2 )
Days: Monday – Thursday
Timings: 11 AM – 1 PM
Ages: 2 – 12 year olds
For registration and more information, contact: 03218202270
French is Fun
Speak, interact, create and repeat French this summer.
Dates:
Session 1: 6th – 31st May 2019
Session 2: 3rd – 29th June 2019
Days: Monday – Friday
Timings: 11 AM – 12 PM
Ages: 4 – 7 / 8 – 12 year olds
Summer Camp
School's over! It's summer camp time!
Dates: from 20th May 2019
Timings: 2:30 PM – 4:30 PM
Ages: 5 – 11 year olds
Contact 03333434603 for more information
Summer Music Camp
Crash courses for the music enthusiasts. Learn how to play the guitar, keyboard or drums and practise your vocals.
Dates:
1st Session: 1st – 31st May 2019
2nd Session: 1st – 30th June 2019
Ages: 5 onwards
For further information, contact: 03002222988
Maths Summer Fiesta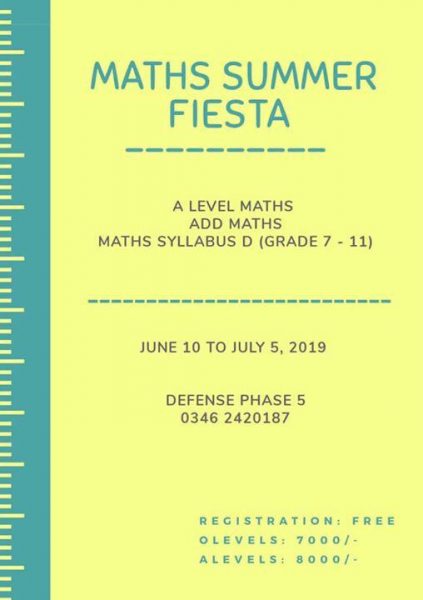 Calling all the maths enthusiasts, let your kids brush up on their maths skills.
Dates: 10th June – 6th July 2019
Ages: Grade 7 – A Levels
Contact 03462420187 for further information.
Learning Ladder Summer Camp
We have something that caters towards all ages. For the young tots, we entertain them with fun maths, arts & crafts and creative expression. For the older kids, we have literacy, numeracy and fun activity programs.
Dates: 20th May – 4th June 2019
Timings: 11:30 AM – 1:30 PM
Ages: 3 – 14 year olds
Contact 03212839354 for more information
The Learning Vista
Join the The Learning Vista's Summer Camp for a variety of different activities every single day so your child doesn't get bored while learning through intensive programs like The Little Medical School, English & Urdu Creative Writing, Robotivities  and much more.
Dates: 13th May – 7th June 2019
Ages: 2 – 6 year olds (all the activities are based around different age groups – look at the poster for more details)
Grassroots
Enrol your kids at Grassroots for a variety of fun activities for different age groups.
Dates, Days, Ages & Timings vary depending on the activities you pick – please have a look at the poster.
Summer Classes with Irum & Sabeen
Enhance your child's language, reading and math skills.
Dates: starting 1st July 2019
Days: Monday – Wednesday
Timings: 11 AM – 12:30 PM
Ages: 2 – 6 year olds
River Oaks Summer Camp
Let your child enjoy the multitude of activities River Oaks Academy has in store like robotics, mindfulness, swimming, story writing.
Dates: starting 12th June 2019
Ages: 3.5 – 12 year olds (activities vary depending on age group)
Avenues PreSchool Summer Camp
Join Avenues for their Summer Camp in collaboration with The Learning Vista. Great for keeping little hands busy.
Contact 03222259066 for further information.
Dates: 10th – 30th June 2019
The Place's Summer Camps
The Place is hosting a number of different summer camps for your kids to enjoy from Arts and Crafts like pottery and origami to robotics, mathematics, technology for all the geeks out there and the chance to learn Mandarin.
The Fun Club's Art Camp
Let's get Artsy in 'The Fun Club's' Art Camp starting on Monday 20th of May 2019.
4 Sessions
Dates: 20th May – 23rd May 2019
Timings: 11 AM – 12:30 PM
Ages: 7 – 18 year olds