The best of this week's pictures from our popular Instagram account @karachista1 . From Frieha Altaf's Kapoor and Sons success party to Sana Safinaz' FavorIT girls lunch, this week was about celeb parties. Bridal outfits were also huge- Jawariya in Jeem by Hamza Bokhari was this week's most popular picture while the Pakistani cricket team threw a hilarious barb at Afridi.
Fawad Khan and Humaima Mallick at Frieha Altaf's success party for Kapoor and Sons. Fawad Khan is picking up plenty of critical acclaim for his role in Kapoor and Sons – it's a must see.
2. Sana Safinaz lawn 4 ways – this pic was by far the most popular of the many we posted from the Sana Safinaz Favorit Girls lunch at Cote Rotie. Worn with subtle differences or in a glam avatar, this shows the difference styling can make.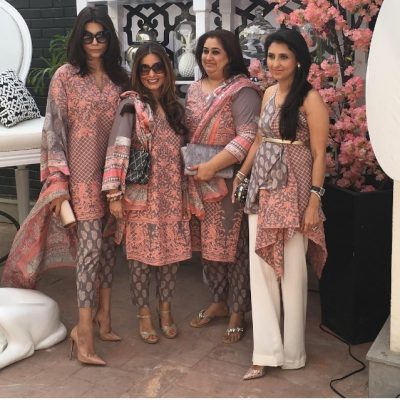 3. Jeem by Hamza Bokhari is an upcoming brand but this picture of Jawariya in a Jeem bridal was by far this week's most popular picture.
4. Real bride Ayla Zaidi also turned heads in this stunning bridal.
5. Alizeh Rahim Shirazi showed off a couple of elegant Zara Shahjahan wedding wear looks.
6. Amna Baber, meanwhile, chose the colourful Nomi Ansari for a wedding in Karachi
7. We caught Amna Baber, Cybil Chowdry and Nooray Bhatti backstage at Shaan e Pakistan in Lahore – styled by the fabulous Nabila N-Pro team.
8.  We spotted Sahar Ghanchi and Faryal Leghari sharing a moment in Esfir Jewellery.
9. This gorgeous embroidered dhoti/tulip shalwar by Menahel and Mehreen caught our fancy – and the fancy of many of our followers. It's available at the Menahel and Mehreen flagship store for Rs14,000. A little pricey but an investment piece that you can wear again and again.
10. Finally the Pakistani Cricket team gave us something to smile about – both with their win over India and this status update.