Book Launch: The Politics of Common Sense | Dr. Aasim Sajjad
Prof. Aasim Sajjad Akhtar teaches at Quaid-e-Azam University in Islamabad.
Prof. Akhtar has published widely on subjects as diverse as peasant movements, imperialism and state theory. He also writes a weekly column in the Dawn newspaper on current social/political issues facing Pakistan. As a prominent leader of the Awami Worker's Party, Prof. Akhtar also bridges the theory-practice divide in academia and politics in the country.
His latest book offers a new perspective on the evolution of the structure of power and political economy in Pakistan over the past four decades. In particular, it builds upon earlier pioneering work on state theory in Pakistan, integrating more recent postcolonial and Gramscian theorisations of state and civil society.
Date and Time: Friday, May 04 2018 at 6PM
Venue: Auditorium, SZABIST, 90 Clifton, Karachi
For any queries/details:
0334-6575356
0336-8411199
Shadi Mubarak – A Comedy Theatre Play
Shadi Mubarak
A Comedy Theatre play
Written & Directed by Younas Khan
Produced by Syed Maqsood
For passes : 0336-2090398, 0333-1374349
Book your Passes Now
Date: 4th May – 6th May
Time: 8PM
Venue: Arts Council, Karachi
Child And Adolescent Mental Health Certificate Course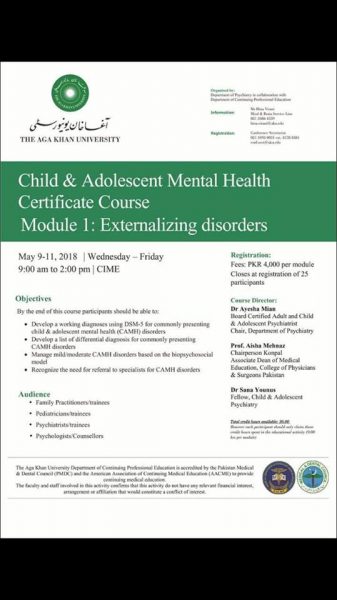 Fact # 1: Approximately 10 million children are affected by mental health disorders in Pakistan
Fact # 2 : On an average there is 1 child & adolescent psychiatrist for 2.5million Pakistani childrenCapacity building of other professionals is essential to manage this endemic.Share details of this course with pediatricians, general practitioners, psychologists and psychiatrists.Join us in our first step towards towards improved mental wellbeing for our Children & Adolescents.
Date: 9th May to 11th May
Time: 9AM to 2PM
Venue: Aga Khan University Hospital
Dracula – Karachi Chapter
Happy Owl Productions brings together a show never seen before with a top of the line team that intends to revamp theatre across the nation. Introducing state of the art graphics on stage, this drama thriller promises romance, music, dance, action and much more..
Experience a theatrical extravaganza and relive the classic "DRACULA" a tale of love, loss and redemption.
Date: 10th – 13th May
Time: 8PM
Location: Karachi Arts Council
Dance Mandala with Alizeh
Dance Mandala with Alizeh Valjee!
A one-day, walk-in workshop
About the workshop:
Dance Mandala is a method of moving meditation that encourages authentic self-expression, cultivating bliss, and stillness. Through free-form movement, music, and gentle guided instruction, participants are exposed to motion that confronts the rigidity and tension of their own bodies.
About the instructor:
Alizeh Valjee holds a BA. in Psychology & Religion from Mount Holyoke College; an Advanced Diploma in Humanistic Integrative Counselling from CPPD, UK; and is a certified freeform movement meditation facilitator. Valjee is the co-founder of CareForHealth and Taskeen, the Karachi-based mental and emotional health initiatives, teaches yoga and meditation classes at AQ Fitness, and also runs her own private practice as a therapist.
When: Monday, 7th May 2018
Where: The Second Floor (T2F)
Time: 07:00PM – 08:00PM
Entry: Free! (donations appreciated)
Girls' Night Out (ONLY for Ladies)
An adult comedy show by The Khawatoons for all the ladies who NEED a night out! 😉
Time: 8-10 PM
Venue: The Thotspot, Karachi
Entry fee: Rs.600
Koel Cafe Presents Khalid Anam -Live- A Trip Down Memory Lane.
Limited Space and Seating ; Tickets Only Available at Koel Cafe.
Rs 2500/- per person ; includes Tea & Assorted Snacks from 9pm till 9.45pm.
Once Sold Out Can't accommodate more ; so please get yours now .
Date: 5th May
Time: 9PM onwards
Venue: Koel Cafe, Karachi