Take this opportunity to give the gift of learning to you, from you. Head over to Alliance Francaise to learn French. If you wanna brush up on your writing skills, join the workshop at The School of Writing. Is stress taking a toll on your mental health? Learn coping mechanisms from the experts at PACC's Stress Management workshops. Laughter never hurt anybody – be sure to let Daddy's Back at Thotspot make your day (not suitable for kids).
French Classes (Weekend Session)
At the Alliance Française de Karachi, learning French isn't about cramming textbooks. Guided by our dedicated French professors who are seasoned and native speakers, our small group French classes are offered every two months and create an immersive environment where you can experience the French language through songs, radio, news articles, poetry, events, games and more. You'll also learn about French culture and history. Ultimately, our goal is to help you master reading, speaking, listening and writing in French in a way that is both rigorous and fun.
LEVELS AND CLASSES
There are 6 broad levels to master the French language: A1, A2, B1, B2, C1 and C2. These are further broken up into sub-levels, each of which is 7 weeks long and covers 40 hours of learning. In order to complete a level, you must complete all sub-levels. For example, to complete the A1 level, you must take the A1a, A1b and A1c courses. For more information about choosing your level, visit our website: https://www.afkarachi.com/frenchclasses/adults
DURATION AND TIMINGS
Each class covers 40 hours of learning in 7 weeks for any sub-level, e.g. A1a or B2b.
Most of our classes are available on either weekday mornings, weekday evenings or weekend mornings. On the weekdays, classes are on Mondays, Wednesdays, and Fridays in the mornings from 10 AM to 12 PM or in the evening from 7 to 9 PM. Weekend classes are on Saturdays and Sundays from 10 AM to 1 PM.
FEES AND REGISTRATION
Each session of 7 weeks (40 hours of learning) costs Rs. 13,000 plus the annual Alliance Française de Karachi membership fee of Rs. 4,000 per year if you are not already a member.
To register for classes, please submit the following at our reception:
-Admission form (available at the front desk or on our website)
-Copy of your CNIC or passport (for expatriates)
-Your previous AFK ID card (if available)
-2 passport size photos
-Registration fees
For more information, visit www.afkarachi.com or write to us at frontdesk[at]afkarachi[dot]com
Date: from 7th September 2019
Time: 10 AM – 1 PM
Venue: Alliance Francaise de Karachi
Art at the Edge: Creativity and Conflict in a World on Fire
In Discussion with Professor Mark LeVine
Join us at T2F on Wednesday, 11th September for a talk with an award-winning Professor/Musician Mark LeVine from US!
About the Speaker:
Mark LeVine is a Grammy-winning musician and award-winning writer and professor who has traveled extensively across Africa and the Middle East, including Pakistan, studying the role of music as a force for social change. He's presently finishing Volume II of his book "Heavy Metal Islam", which documented the rock, metal and hiphop scenes across the Arab/Muslim world, including Pakistan, and has just arrived from Kabul where he was working with local artists and political activists"
Date: Wednesday, 11th September 2019
Time: 07:30 PM – 09:30 PM
Venue: Faraar Gallery, T2F
Entry: Rs.100/-
The Writer in Me!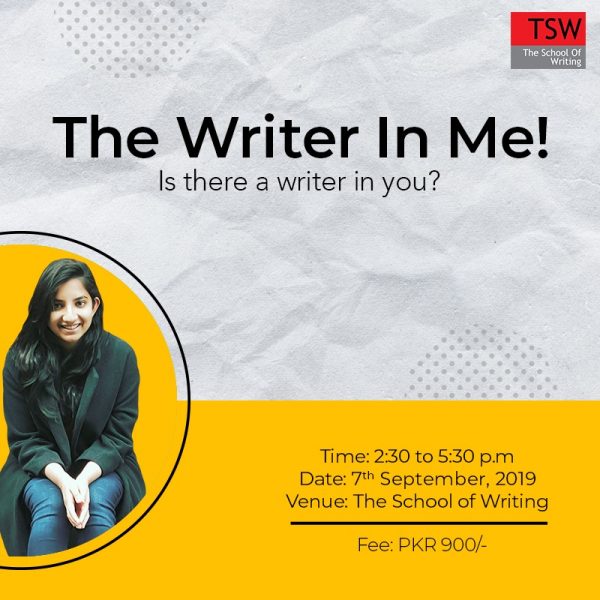 Do you shy away from writing, but know that a writer lives within you? In this hands-on creative writing workshop, you will write, share, have fun, and start to overcome your fear of writing.
WORKSHOP FEE: 900 PKR.
Date: 7th September, 2019.
Time: 2:30 PM – 5:30 PM
Venue: The School of Writing, 4th Floor, 9-C, DHA Phase II Ext. South Park Avenue, Karachi.
Suitable for ages 16 and above.
In order to register for this workshop, kindly click: https://goo.gl/forms/ceKgo5iA1W22ENP33
Daddy's back – Dirty Comedy
Karachi is getting wet – it is about time you do too.
After touring the country with the show, Dirty ka Daddy Shehzad Ghias Shaikh is back with another improvised stand up comedy show with new material full of dirty jokes..
Daddy's back is an hour of improvised stand up comedy where Shehzad interacts with the audience to come up with jokes and material.
Needless to say, the show is not for the easily offended. There will be plenty of cursing and sex jokes! Come with an open mind and even more open legs.
Date:  Friday, September 6th, 2019
Time: Gates open at 8:15 pm, show starts at 8:30 pm
Venue: Thotspot, Off Badar Commercial, Phase 5
(https://goo.gl/maps/S3KaJQcU6S7tmpaM7)
Tamam dirty shows bachon kee pohanch say durr rakhay.
No drinks or food allowed. No smoking. Strictly for adults. Show is roughly 60-75 minutes.
Tickets: Rs 750 at the gate (Early Bird (till Thursday 5pm) for Rs 500 only.
For Early Bird tickets please call 0335 2850188 between 12pm and 8pm
Learn Portraits //
'Learn Portraits' is a one day workshop on Basics of Photography and Portraits. The Workshop includes 02 Hours of Basic Understanding of portraits and it's essentials followed by a 02 hour class of practical understanding of lights and hacks.
Date: 1st September, 2019
Time: 02:00 pm to 06:00 pm.
Venue: Office#401. Forth Floor. Building#14-C, Anum Arcade, South Park Avenue, Phase 2 Ext, DHA, Karachi.
Fees: 3500/- Rupees Only.
For Registrations, fill the form below:
https://forms.gle/5P1z4Ed6qxM949nv5
Info & Details: 0333-2371520
NgGirls Karachi: Workshop #3
Are you a woman interested in learning how to build web applications with the latest technologies? We have good news for you: We are holding a one-day workshop for beginners!
ngGirls aims to introduce women to the world of technology and increase the diversity. We believe that the IT industry will greatly benefit from bringing more women into technology. We want to give you an opportunity to learn how to program and become a programmer.
Agenda
The workshop consists of an intro to Angular and then the participants will start the workshop. There will be mentors to guide the participants.
Group will be made before the workshop day. Each group will have two to three participants and one mentor. Mentors will also help their groups in the installation that is required before the workshop. During the workshop, you will build and deploy your very first Angular Web Application!
Registration: http://bit.ly/321YwtF
Want to be a mentor?
If you can volunteer at the workshop and give some support on the days before and after, we'd love to have you! You don't need to be an Angular expert – just a web developer.
Registration: http://bit.ly/2NrPLVK
Dates: 7th of September
Timings: 9:30 AM – 5:30 PM
Venue: The Nest I/O
Stress Mangement
Are you always stressed out? Do you feel overwhelmed at work or home?
Then this workshop is for you.
Stress is a general condition that we all face when put under pressure but there are coping mechanisms that we can learn to deal with it.
Date: 5th September 2019
Time: 5 PM – 7 PM
Venue: Lincoln Corner, Liaquat Memorial Library, PACC
Register now: https://forms.gle/C15kTuow5kPe6KKq9